ADI Conference 2019
Asian Mobilities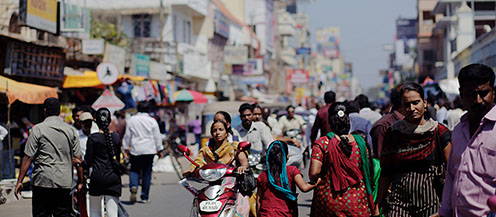 Photo: Gwenael Piaser
11th Annual ADI Conference - Asian Dynamics Initiative
Since the launch of the Asian Dynamics Initiative at the University of Copenhagen in 2008, the ADI annual conference has become a well-established event in Asian Studies internationally. With the conference in 2019 we wish to continue this tradition.
The 11th ADI conference at the University of Copenhagen continues the tradition of investigating Asian intra-regional and transregional connectivities. Our point of departure is that the multi-directional movement of people, ideas, things and technologies across space and time produces ever-changing configurations of human relationships, knowledge systems, and power relations. Through a focus on multiple connectivities and their impact on human perceptions, actions, knowledge paradigms and the material world, the conference will further expand understanding of the historical and contemporary significance of Asia in global contexts.
Welcome by Mikkel Vedby Rasmussen, Dean of The Faculty of Social Sciences
Keynote adresses on the overall topic Asian Mobilities will be given by three distinguished scholars:
Professor Dagmar Schäfer, Director of the Max Planck Institute for the History of Science, Berlin
Mobilities and histories of knowledge exchange in Eur(ope-)Asia-Africa. Or: Is China 'Chinese'? 
Dr. Kajri Jain, Department of Visual Studies, University of Toronto
Gods in the Time of Democracy

Professor Eric Tagliacozzo, Department of History, Cornell University
How the Indian Ocean Spice Trade Made the World Modern


Visit the conference website for information about the call for papers and panels, programme, registration, venue and more.