Not by Love Alone - The Violin in Japan, 1850-2010
Book launch with lecture and recital by Margaret Mehl, hosted by the Dansk-Japansk Selskab
Suzuki Shin'ichi, the Tokyo String Quartet, Midori – How did Japanese violinists manage to revolutionize violin teaching, win international competitions, conquer Western concert stages, study at world-famous conservatoires and take up positions in leading orchestras and prestigious music faculties? What enabled the Japanese to master Western classical music within a few decades? What are the true origins of the Suzuki Method? How did Mozart and Beethoven come to be more widely heard in Japan today than Japan's own traditional music?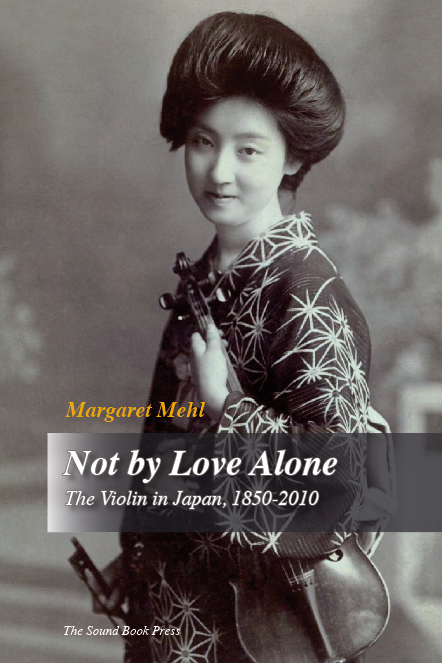 Not by Love Alone addresses these questions presents one Japan's biggest success stories: the complete assimilation of an alien musical tradition within a few decades and Japan's rise to a musical superpower in the latter half of the twentieth century.Not by Love Alone traces the history of the violin in Japan from its beginnings to the present day.
Margaret Mehl, will briefly introduce her book and the music she will be performing. After the recital there will be time for questions. Drinks and nibbles will be served and there will be an opportunity to purchase Not by Love Alone at a special discount.
Program:
Kôda Nobu (1870–1946)

Sonata Movement for Violin and Piano

in E flat major (1895)

Kishi Kôichi (1909–1937)

Tsuki (Moon), Suifu no uta (Sailor's Air)

(first published and performed 1934)

Miyagi Michio (1894–1956)

Haru no Umi(Sea in Springtime, 1929)

Violin version as performed by

Renée Chemet with the composer in 1932

Piano: Jean-Claude Grivel
For more details about Not by Love Alone, see www.notbylovealone.com
Margaret Mehl is an expert on the history of modern Japan and a dedicated amateur violinist. Currently she is an Associate Professor at Department of Cross-Cultural and Regional Studies at the University of Copenhagen. She holds a doctorate from the University of Bonn as well as one from the University of Copenhagen.