Southeast Asian Artists' Global Networks
Keynote address by Professor Nora Taylor at the 9th Annual ADI Conference
Abstract: Southeast Asian Artists' Global Networks 
This talk will look at artistic exchanges in Southeast Asia that are created through person to person contact rather than the circulation of objects, in the form of performance art events, re-enactments, and large traveling exhibitions. It argues that close physical contact and creative collaborations among artists have become a means of writing alternative art histories that rely on oral transmission and live recordings. The creation of networks among artists have helped develop bonds among artists as well as foster the development of art history in the region.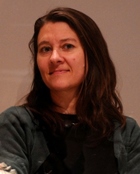 Nora Annesley Taylor is Alsdorf Professor of South and Southeast Asian Art History at the School of the Art Institute of Chicago. She specialises in modern and contemporary Vietnamese art and the interconnectedness, or lack thereof, in Southeast Asian art. In addition to this, she is responsible for curational projects at The Alsdorf Galleries of Indian, Southeast Asian, Himalayan, and Islamic Art.
Read more about the conference here.
All are welcome!