Rabindranath Tagore
150 Years Birth Anniversary - 19 September 2011
Rabindranath Tagore (1861-1941), the great poet and educationist, immensely enriched the Bengali language and in literature promoted the spoken Bengali language which had until then been looked down upon by Bengali intellectuals. He also improvised Bengali songs and music to a great extent. In 1913 Tagore was awarded the Nobel Prize for his invaluable literary work Gitanjali (Song Offerings). He was very critical of the educational curriculum set by the British colonial system, and in 1918 he founded the university Visva Bharati through which he hoped to bridge the best of the West and the best of the East.
Tagore was active in protests against the British colonial regime when the partition of the large province of Bengal in East and West Bengal was announced in 1905. However he renounced political activities when the protests turned violent.
His song 'Jana gana mana' has been adapted as the National Anthem of India and 'Amar Sonar Bangla' as the National Anthem of Bangladesh.
Sponsored by
The Indian Council for Cultural Relations (ICCR), Government of India
The Embassy of India, Copenhagen
Asian Dynamics Initiative (ADI), NIAS, and the Rectorate/International Office at the University of Copenhagen
In collaboration with Indian Music Society, Denmark
The celebration of Rabindranath Tagore's 150th birth anniversary continues with a cultural evening (20th September) organised at Teater Sagohuset in Lund as well as academic seminars in Lund (21st), Stockholm (22nd) and Uppsala (23rd). 
Santals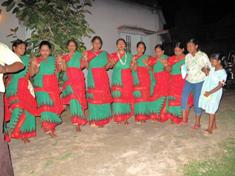 Dancing Santals Adibasis in Sanitiketan (Umul Association - July 2011). Tagore was deeply moved by the plight of the common and tribal peoples in the countryside of Bengal, and tried to include local rural development in the work of the university Visva Bharati (House of the World) which he founded in Santiniketan in 1918.
Temple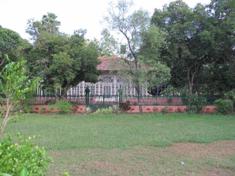 Temple (Mandir) erected by Tagore in Santiniketan. The walls are of glass to symbolise the omnipresence of the godhead.