Public Southeast Asia Policy Briefing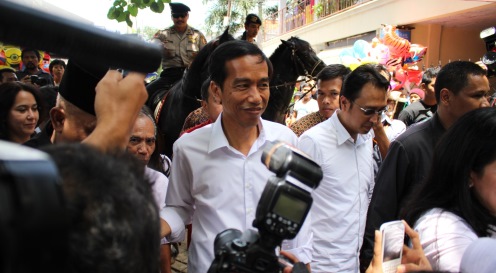 Jokowi - to be or not to be?
Indonesia, the world's third largest democracy, elects a new president and parliament
On 17 April 2019, general elections will be held in Indonesia, which is home to the largest Muslim population in the world. For the first time in the republic's history, the president, the vice president, and members of the People's Consultative Assembly (MPR), will be elected on the same day. These elections are significant because they are depicted to set the future path of Indonesia politically, economically and socially as well as what concerns human rights. Current President Joko Widodo (usually abbreviated as Jokowi) chose to run with the Islamic conservative Ma'ruf Amin as vice presidential candidate. Prabowo Subianto, former military general during the era of President Suharto, who is responsible for human rights violations, is the rival opponent running together with the entrepreneur and businessman Sandiaga Uno.
What will be the effect for Indonesia's diversity and for its ethnic and religious plurality? Will the nation's state motto "Unity in Diversity" be under threat? What are additional factors and voices determining the elections? What are the implications for foreign policy in ASEAN, inter-Asian and European relations? And what are Denmark's and Sweden's interests in these elections?
The event will be looking at the Indonesian elections from a "Nordic perspective", feature representatives from the academic field of Southeast Asian Studies, the press and diplomatic circles who will give brief talks of informed insight and commentary, and exchange provisional forecasts with one another.
Speakers
Prof. Anders Uhlin, University of Lund
Zaki Habibi, PhD Fellow, University of Lund
Flemming Ytzen, Journalist and correspondent, Politiken
Børge Petersen, former Danish Ambassador (ret.) to Jakarta, Advisor
Moderator is Mark Philip Stadler, PhD Fellow in the field of Southeast Asian Studies, University of Copenhagen.
Date & time: 6 March 2019, 16.00-18.00 hrs
Venue: NIAS, CSS, University of Copenhagen
Conveners: ADI and NIAS, University of Copenhagen

All are welcome!