Love, Money and Obligation: Transnational Marriage and Local Complexity
Brown bag talk by Dr. Patcharin Lapanun, Khon Kaen University, Thailand.
Abstract
Transnational intimacies and marriages between Thai women and Western men are a striking social phenomenon in Thailand, particular in the Northeast region, Isan. These marriages challenge binary views about materiality and intimacy within global relationships, perceptions of sexuality and marriage, gender relations as well as existing class divisions in the "local end" of these transnational connections. Based on their distinctive consumption practices and life styles, the women under this marital relationship constitute a new "class" which has challenged village hierarchical structure and put village elites into a vulnerable position. Similarly, transnational marriage often places local men in vulnerable positions by highlighting the idea of desired marriage partners as reliable providers who allow women to fulfil a Thai cultural obligation of 'dutiful daughters' who care for and support their parents. Both class and gender dynamics taking place in women's natal village emphasize the complexities at the "local end." The on-going transformations brought about by transnational marriage of village women are something the villages (and Thai people) have to come to terms with.
Bio
Dr. Patcharin Lapanun is a lecturer in Sociology and Anthropology at Khon Kaen University, Thailand. She earned her PhD in Anthropology from Vrije University Amsterdam, the Netherlands. Her research interests include transnational marriage and migration, global care regime, migration and 'the left-behind', gender and development.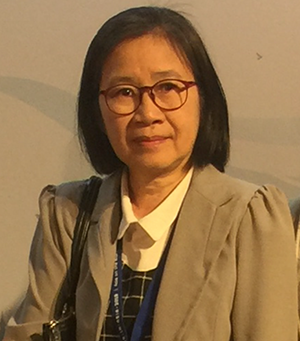 Patcharin's recent book "Love, Money and Obligation: Transnational Marriage in a Northeastern Thai Village" (2019) explores the complexities of Thai-woman and Western-men marriages and consequences of such marriages on the dynamics of rural Thai communities, especially in terms of gender, class and family. She is also a co-author of the books "Cross-Cultural Marriage: Stage of Knowledge" (2007-Thai Language) and "Village-based Silk Production in Transition, Northeast Thailand" (2012). Her recent research articles include "Masculinity, Marriage and Migration: Farang Migrant Men in Thailand" (2018, Asian Journal of Social Science), "Masculinity, Matrilineality and Transnational Marriage" (2018, Journal of Mekong Society), "Mia farang: An Emergence of a New 'Class' in (Rural) Thai Society" (2015 - Thai language, a book chapter); "It's Not Just about Money: Transnational Marriage of Isan Women" (2012, Journal of Mekong Society), "Social Relations and Tensions in Transnational Marriage for Rural Women in Isan Thailand" (2012, a book chapter).
The talk will be chaired by Oscar Salemink, Dept. of Anthropology
Feel free to bring your own lunch.