Necro Citizens - a collective reading with poets Jennifer Kwon Dobbs, Maja Lee Langvad, and Eva Tind
Award-winning poet, associate professor and program director of Race and Ethnic Studies at St. Olaf College (USA), Jennifer Kwon Dobbs was born in Wonju-si, South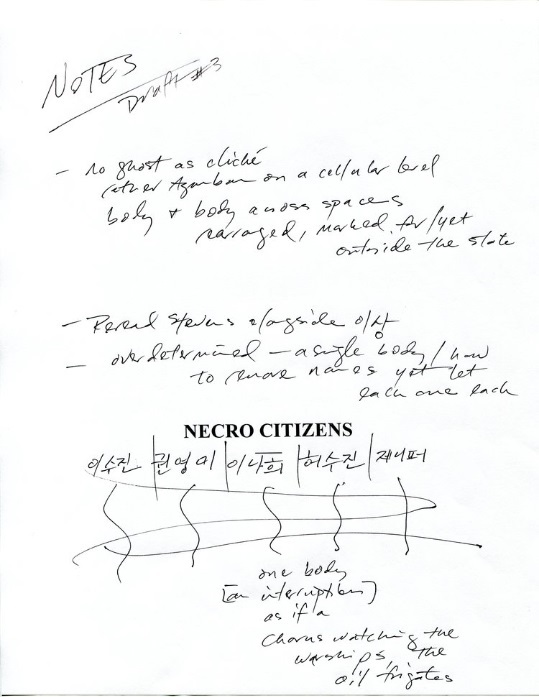 Korea and adopted to Oklahoma, United States. Her interests include transnational Korean diaspora, kinship, Cold War sexual politics, and Korean single mothers. These themes inform her new chapbook of poems Necro Citizens, an English and German-language edition from hochroth Verlag (www.hochroth.de), developed through an artistic and scholarly exchange with transnational artists Jane Jin Kaisen and Gus Sondin-Kung (janejinkaisen.com).

Kwon Dobbs will read with fellow poets Maja Lee Langvad and Eva Tind. The reading will be followed by an artists' discussion, which will focus on Korean adoptee literature in transnational diasporic contexts chaired by Mette A. E. Kim-Larsen.

The event will be partly in English and in Danish.
Copies of Necro Citizens will be available for purchase at the event.
About the performers
Jennifer Kwon Dobbs was born in Wonju-si, South Korea and lives in Saint Paul, Minnesota (US). She received a MFA in poetry from the University of Pittsburgh and a PhD in literature and creative writing from the University of Southern California with specializations in poetry, Asian American literature and Korean adoption studies. Since 2008, she is associate professor of English and directs Race and Ethnic Studies at St. Olaf College. Her work has received several awards and has been featured in the New York Times, World Literature Today, and Daesan Literary Journal.
Publications: Paper Pavillon (2007, Winner of the 2007 White Pine Press Poetry Prize, Winner of the New England Poetry Club's Sheila Motton Book Award), Notes From a Missing Person (2015), Interrogation Room (2018), and Necro Citizens (2019).
www.jkwondobbs.com

Maja Lee Langvad was born in Seoul, South Korea and lives in Copenhagen, Denmark. Graduated from Forfatterskolen in 2003.
Publications: Find Holger Danske (2006), Hun er vred (2014), Holger Danske Appendix (2014), Dage med galopperende hjertebanken (2017).
www.leelangvad.dk

Eva Tind was born in Pusan, South Korea and lives in Copenhagen, Denmark. Graduated from The Royal Danish Academy of Fine Arts Schools of Architecture, Design and Conservation in 2001. Works in mixed media.
Publications: Do (2009), eva+adolf (2011), Rosenvej (2012), Objet fabriqué (2013), Han (2014),Astas Skygge (2016).
www.evatind.dk

Mette A.E. Kim-Larsen was born in Daegu, South Korean and lives in Copenhagen, Denmark. Currently a student in the Arts and Cultural Studies Department at the Copenhagen University, Denmark.