Nordic Korean Studies Days
Nordic Korean Studies Days is a 5 day intensive Korean Studies course designed to share expertise and cooperation among both teaching faculty and students of Nordic universities, supported by Korea Foundation.
From 11-15 March 24 students and 8 professors from Stockholm, Helsinki, Turku and Oslo will visit Korean Studies at the University of Copenhagen for at whole week of Nordic Korean Studies. The program includes seminars, talks, music and museum visits primarily for students in Korean Studies at universities in the Nordic countries.
The following talks are open to the public - all are welcome: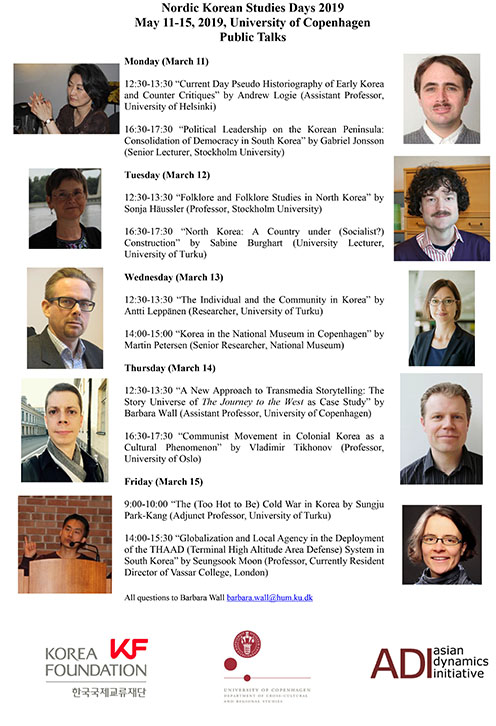 Monday 11 March
12:30-13:30 Current Day Pseudo Historiography of Early Korea and Counter Critiques by Andrew Logie (Assistant Professor, University of Helsinki)
16:30-17:30 Political Leadership on the Korean Peninsula: Consolidation of Democracy in South Korea by Gabriel Jonsson (Senior Lecturer, Stockholm University)
Tuesday 12 March
12:30-13:30 Folklore and Folklore Studies in North Korea by Sonja Häussler (Professor, Stockholm University)
16:30-17:30 North Korea: A Country under (Socialist?) Construction by Sabine Burghart (University Lecturer, University of Turku)
Wednesday 13 March
12:30-13:30 The Individual and the Community in Korea by Antti Leppänen (Researcher, University of Turku)
14:00-15:00 Korea in the National Museum in Copenhagen by Martin Petersen (Senior Researcher, National Museum)
Thursday 14 March
12:30-13:30 A New Approach to Transmedia Storytelling: The Story Universe of 'The Journey to the West' as Case Study' by Barbara Wall (Assistant Professor, University of Copenhagen)
16:30-17:30 Communist Movement in Colonial Korea as a Cultural Phenomenon by Vladimir Tikhonov (Professor, University of Oslo)
Friday 15 March
9:00-10:00 The (Too Hot to Be) Cold War in Korea by Sungju Park-Kang (Adjunct Professor, University of Turku)
14:00-15:30 Globalization and Local Agency in the Deployment of the THAAD (Terminal High Altitude Area Defense) System in South Korea by Seungsook Moon (Professor, Currently Resident Director of Vassar College, London
All questions to Barbara Wall (barbara.wall@hum.ku.dk)