Religious Nationalism, Populism, and Democracy in India 
South Asia Lectures
Centre of Global South Asian Studies and the Department of Cross-Cultural and Regional Studies invite you to a talk on Religious Nationalism, Populism, and Democracy by Dr. Uday Chandra from Georgetown University, Doha.
Abstract: Since the end of the Congress one-party regime in India, the post-Congress polity has been dominated by two tendencies: religious nationalism and caste-based activism. In theory, these tendencies are opposed to each other because the former is typically characterized as a centripetal force that seeks to unify the nation and its fragments whereas the latter is viewed as a centrifugal force that keeps the nation in fragments. Between 1989 and 2014, however, these tendencies and their underlying forces sometimes combined and sometimes fell apart. This is because Hindu nationalism remained an elitist tendency whereas caste-based activism tended to democratize the polity. In the 2014 national elections, Hindu nationalism and caste politics came together for the first time in a coherent manner. We may now speak justifiably of Hindu nationalist populism based on caste-based political mobilization even as we must acknowledge that anti-caste politics continually threatens to rend asunder the Hindu nation-in-the-making.The Indian case has always intrigued students of democracy and democratization. It has often been regarded by comparativists as an exception or even anomaly in a club of richer liberal democracies. But we might ask today whether recent transformations in Indian democracy might shed light on processes at work in the North Atlantic world. What has made religious nationalism, populism, and democracy come together at this critical juncture in world history? Are we seeing a resurgence of fascism after a lengthy hiatus? How might alternative political formations emerge in future? Thinking comparatively, I would like to invite you to think through the Indian case in order to find answers to these big questions about global politics today.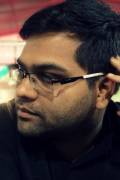 Bio: Uday Chandra is an Assistant Professor of Government at Georgetown University, Doha, Qatar. He received his PhD in political science from Yale University in 2013. His research is interdisciplinary and encompasses a range of interests: state-society relations, power and resistance, political violence, agrarian change, rural-urban migration, and popular religion. He has published in the Law & Society Review, Interventions, Critical Sociology, Social Movement Studies, New Political Science, The Journal of Contemporary Asia, Contemporary South Asia, and the Indian Economic & Social History Review. He has co-edited volumes and journal special issues on self-making in modern South Asia, subalternity and the state in contemporary India, caste relations in colonial and postcolonial eastern India, and social movements in rural India today. His forthcoming monograph with Stanford University Press, Negotiating Leviathan, traces how "tribes" have curiously co-evolved with modern statemaking processes in South Asia and beyond. He is currently working on a book manuscript on Hindu nationalism and democracy in contemporary India.