Transformations of Tibetan Sacred Landscapes: Modernisation, Buddhist Economics, and State Secularism
Center for Contemporary Buddhist Studies invites you to a guest lecture by Anna Sehnalova, Oriental Studies, University of Oxford.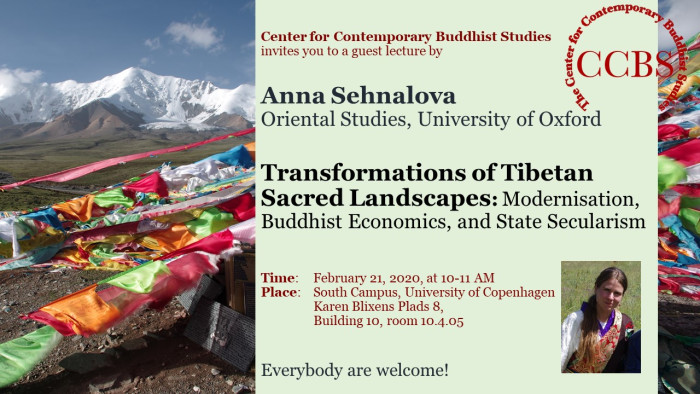 Abstract
The talk opens with an introduction to Tibetan indigenous notions of sacralisation of landscape and their interplay with Buddhism. To provide an example of thus created Buddhist sacred sites of the natural environment, the talk focuses on one of the most sacred mountains of Tibet, Amnye Machen (A myes rma chen), located in East Tibet (contemporary mGo log Prefecture, Qinghai Province, People's Republic of China).
The presentation deals mainly with two topics: the ongoing vivid revitalisation of the cult of the mountain since the forced rupture during the Cultural Revolution (1966-76), and how this interacts with the current changes at the site due to state planned modernisation and development within the "Great Development of the West" (Xibu da kaifa) strategy extensively implemented since the beginning of the 21th century. Particular attention is paid to the recent great circumambulation pilgrimage to Amnye Machen mountain, performed once in twelve years in a Horse year, which took place in 2014/15, in the Horse year of 2143 of Tibetan calendar.
I aim to show the present form of the pilgrimage, its reflection of and accustomisation to these changes, and the resulting quick transformation of the institution of pilgrimage. Pilgrims' and local people's understandings and views, alternations and modifications of their behaviour and pilgrimage practice, as well as actual reactions are discussed. A re-occurring theme is a growing capitalisation of the religious practice, in which market economic value contributes to the notions of the spiritual merit gained. The paper argues that the site of Amnye Machen is currently being reinterpreted by the state in a secularised, commodifying, and territorialising discourse in order to more closely politically and culturally incorporate the area, and shows how this affects Buddhist practice.
Bio
Anna Sehnalova is a D.Phil. student in Oriental Studies at the University of Oxford. Her research focuses on Tibetan cultural reflections of landscape and wildlife, including medical and ritual traditions, and mountain cults within their broad socio-cultural, historical and modern contexts, and their interactions with Buddhism. She combines ethnographic fieldwork with textual sources.
Time:     February 21, 2020, at 10-11 AM
Place:    Building 10, room 10.4.05, South Campus, University of Copenhagen
Organizer: Center for Contemporary Buddhist Studies

South Campus