Women's Empowerment through Social Safety Nets
Lunch talk with Marvi Memon on the Benazir Income Support Programme (BISP) in Pakistan.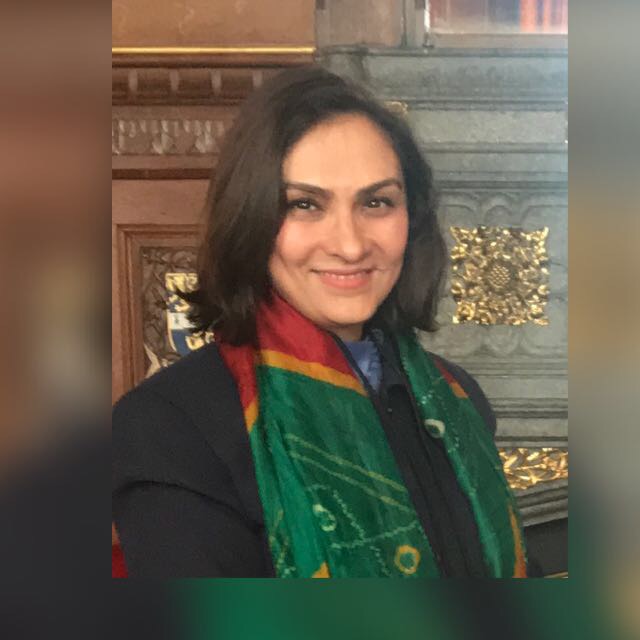 Bio: Marvi Memon is a humanitarian, former parliamentarian, cabinet member, and former CEO. Born in Karachi Pakistan in July 1972. After schooling from Karachi, Paris and Kuwait, she graduated from the London School of Economics with B.Sc (Econ.) Honors in International Relations in 1993. She has since worked for Citibank, been CEO of Pakistan's first satellite tracking company, advised the President of Pakistan on Media Management, the Ministry of Investments, been a parliamentarian for two consecutive terms, an Information Committee Chairperson in parliament, Chaired as Minister the largest social safety net of Pakistan BISP, and is currently on a lecture tour of Europe. Ms. Memon has the distinction of being awarded the UK House of Commons Speaker Inaugural Democracy Award 2017, the French Officier de Merite award 2017 and Membership of the World Bank Advisory Gender Council 2017
Abstract: The recent history of successful social safety nets (SSN) in the South have clearly demonstrated that the goals of poverty alleviation and women's empowerment are intricately linked. Pakistan's largest social safety net namely the 'Benazir Income Support Programme' (BISP) is a case study for this. Set up in 2008 under the Pakistan Peoples Party (PPP) government, after a decade, BISP is now experiencing its third political government. Despite the change of political governments, from PPP to Pakistan Muslim League Nawaz (PMLN) to the current Pakistan Tehrik Insaaf (PTI), the program has remained committed to its original objectives and has achieved progress in both the women's empowerment and the poverty alleviation indicators. In most countries of the South political programs do not survive the shifts in political government and the original goals get lost. There are reasons why BISP is a successful role model for other SSNs of the region and this will also be examined in the context of women's empowerment.
It will be argued that there are many ways in how to improve women's empowerment indicators and the logical route involves a number of deliberate actions on behalf of all governments. Firstly a recognition that the poverty alleviation goals can only be successfully achieved when the most vulnerable women of the country are in charge of their own destinies, as well as the destinies of their family. In essence the 'women first' approach. Secondly, when these very women have been given constitutional protection their journey towards women's empowerment and poverty alleviation will be safer, and survive the political storms which will happen in most developing countries with checkered political histories. Thirdly, as a consequence of the 'women first' approach, the vulnerable women are family household heads in the state's National Socio Economic Registry. This entails many development benefits for the women. Fourthly, women are the ones who are made the unconditional cash transfer (UCT) quarterly payments in the SSN making them part of a larger financial inclusion women's empowerment network. Fifthly, women are organized into committees which translate into socio economic and political empowerment benefits of an unimaginable kind creating a silent but lethal women's empowerment revolution. Sixthly, the most vulnerable women are not part of the SSN forever and they are given opportunities of exiting poverty and the SSN through graduation programs which enable them to achieve both poverty alleviation and women's empowerment simultaneously. And finally all the above ensures that the most vulnerable women have the famous 'dignity, empowerment and meaning to life' goal at their doorsteps which can be measured through impact assessments and provide institutional models for other SSNs.
All the above has in the last decade been institutionalized in Pakistan to such a large extent that it is difficult for any political government to change its foundations, and as such BISP has weathered many political battles. It has become one of those few organizations in Pakistan's public sector which has become an institution in itself whose benefits affect millions of voters who decide the outcomes of elections and the fate of political parties. It is for this purely political reason that all political governments have remained committed to the women's empowerment and poverty alleviation agenda of BISP. Politicians have selfish motives linked to their votes and if BISP's institutional strength feeds off from that very motive, so be it. The net advantage is to the lives of the most vulnerable women and their empowerment.
As a former Minister in charge and Chairperson of BISP I am humbled to have led this women's empowerment revolution for a period of 3 years of BISP's 10 year existence, for 5.7 million of the most vulnerable women of Pakistan with the help of over 2300 BISP employees and yearly budgets of $1.25 billion. As such the story which follows is as professional as personal, as theoretical as practical. It is a story of working with the most vulnerable women of Pakistan and seeing their pains tribulations and successes from very close up, in their homes, fighting for them in boardrooms and cabinet, and them winning this fight every day for their own survival and dignity.