24 June 2022
2022 Autumn Call for ADI Funding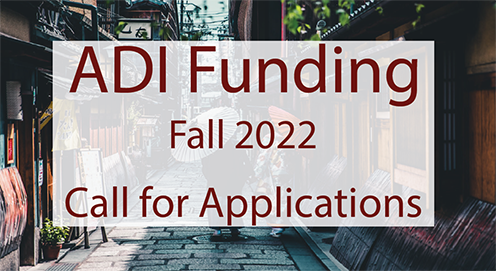 The Asian Dynamics Initiative invites researchers employed at the University of Copenhagen to submit proposals for financial support for projects and activities with research focus on Asia. ADI promotes interdisciplinary scholarship in Asian languages, cultures, societies, and politics at UCPH. Through frontier research and teaching, it contributes to vital policy and public debates that address complex regional and global affairs.
We encourage proposals which address interdisciplinary and/or comparative themes across Asia including West Asia as well as Asia-Europe interconnections. Priority will be given to explorative projects which open for collaboration at UCPH; and serve as seed money to build new research ideas and initiatives. Two kinds of funding can be applied for:
Research workshops (up to 20.000 DKK)
Travel grants (up to 10.000 DKK)
The research workshops must take place at UCPH. Travel grants are primarily intended to support fieldwork activities. All expenses must be settled by the end of 2023. ADI will not fund salary or salary compensation (frikøb) to buy out teaching responsibilities. Nor activities that have already taken place. The proposal should include:
Description and aim of activity (max 2 pages 

for 

workshops; 1 page

 

for

 

travel grant)
Expected outcome
Budget
All successful projects will be expected to submit either a fieldwork report, short analysis, or a policy brief that can be published on the ADI website.   
Submission Deadline: 2nd September 2022.
Decision: Ultimo September.
Applications should be sent as a word or pdf file to Casper Wichmann: casperw@hum.ku.dk