6 June 2021
Monks, Money, and Morality: The Balancing Act of Contemporary Buddhism
Christoph Brumann, 
Saskia Adelle
Abrahms-Kavunenko,
Beata
Switek (eds.), 

Bloomsbury Publishing, 2021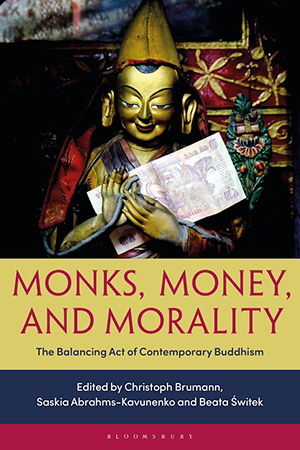 Vibrantly engaging contemporary Buddhist lives, this book focuses on the material and financial relations of contemporary monks, temples, and laypeople. It shows that rather than being peripheral, economic exchanges are key to religious debate in Buddhist societies. Based on long-term ethnographic fieldwork in countries ranging from India to Japan, including all three major Buddhist traditions, the book addresses the flows of goods and services between clergy and laity, the management of resources, the treatment of money, and the role of the state in temple economies.
Along with documenting ritual and economic practices, these accounts deal with the moral challenges that Buddhist adherents are facing today, thereby bringing lived experience to the study of an often-romanticized religion.