Beggars of Lahore - film screening by Sheba Saeed
Date: Tuesday, November 26, 2013 - 14:30 to 15:45
Venue: NIAS, Building 18.1, University of Copenhagen City Campus, Ø. Farimagsgade 5, Copenhagen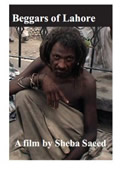 Begging is a worldwide phenomenon. The age old proverb, beggars can't be choosers, is clear about beggars not having a choice but is that really true of today's begging population in Lahore, Pakistan. "Beggars of Lahore" is a journey into the streets of Lahore, Pakistan's second largest city and cultural hub to discover what compels the beggars to beg and what measures have been placed by the government and non governmental organisations to assist the beggars.
The documentary examines the political, social, religious, economic reasons for begging as well as the growth of the beggars' mafia including case studies of beggars and interviews with cricketer/politician Imran Khan, advocate/human rights activist Hina Jilani, Chief Minister of Punjab Chaudhry Parvez Elahi amongst many others from both the public and private sphere as well as the general public.
Dr. Sheba Saeed, PhD from Birmingham University and director of the film will talk about her work and answer questions after the screening.