Conference: Asia and Africa in Transition
Panel: Shifting the approach: decolonising academia in Africa and beyond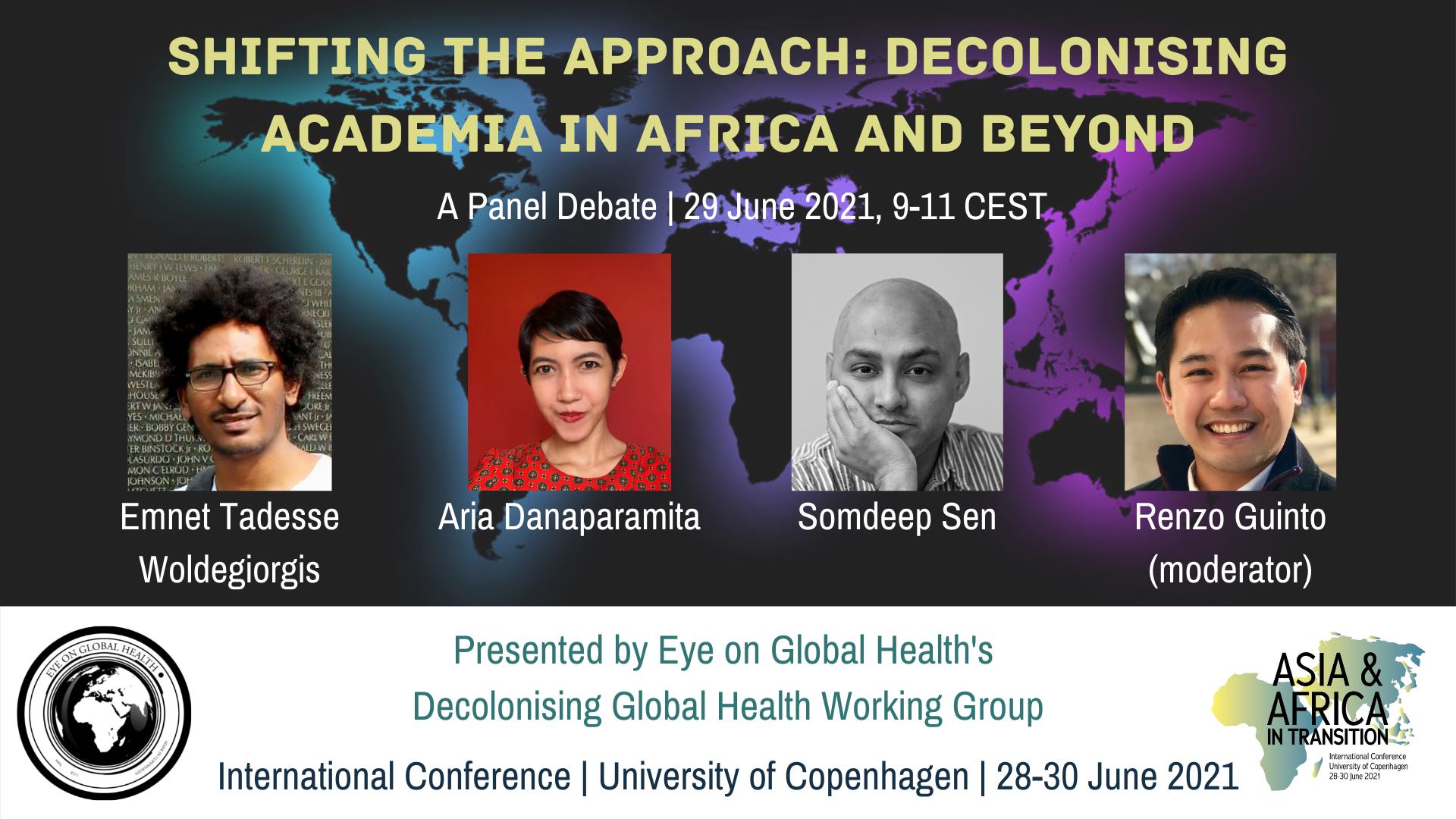 Online panel, live stream in room 23.0.49, South Campus, University of Copenhagen
Inspired by current efforts to decolonise academic research in general, and the field of Global Health in particular, we propose a panel focused on the importance of decolonisation in scholarship, particularly with regards to Africa and Asia.
When organising a 2-day workshop in October with the support of School of Global Health and Sammen Mod Racisme (Together Against Racism), our goal was to educate students, ourselves included, on systemic racism and the legacy of colonialism within Global Health. Following a successful event where 100 tickets were sold out within the first few days, our objective was to spark conversations that would ripple through the University of Copenhagen.
With this panel, we aim to continue this effort placing a focus where we believe current Global Health academia lacks attention. Our idea for this panel is to present the importance and rationale for decolonising efforts in scholarship. We will invite academics who are experts in the field to share their perspectives and/or good practice. Perhaps most importantly, we would create a space where academics and students from all backgrounds could ask questions and share their experiences. We hope this panel will provide participants with the tools to critically analyse their own motivations for working in their chosen field, as well as reflecting on how they can use their platforms to challenge existing power structures and amplify marginalised voices. We believe this topic is relevant for the 'Asia and Africa in Transition' conference theme, in order to acknowledge that a shift in the academic approach is needed when moving towards solutions to global challenges. Furthermore, we believe that this panel would contribute to making sure that systemic inequities, current global power transitions and the enduring legacy of Eurocentric health agendas within Africa and Asia do not go unexamined during the conference.
Panelists
Somdeep Sen, Associate Professor in International Development Studies at Roskilde University, Denmark
Emnet Tadesse Woldegiorgis, Associate Professor in Higher Education at the University of Johannesburg, South Africa
Aria Danaparamita, writer, researcher and photographer based in Jakarta, who focuses on the history of Southeast Asia and has contributed to outlets such as VICE, Foreign Policy, The Diplomat and Al Jazeera
Moderator: Renzo Guinto, MD DrPH, Associate Professor of the Practice of Global Public Health, Inaugural Director of the Planetary and Global Health Program of the St. Luke's Medical Center College of Medicine in the Philippines, Chief Planetary Doctor of PH Lab, Associate Researcher of the Copenhagen School of Global Health at the University of Copenhagen.
29 June, 9:00-11:00
Time

Topic

9.00 - 9.20

Introduction

Panel organizers introduce panel and themselves
Moderator introduces himself, including statement of

positionality/privilege and pronouns

Panelists introduce themselves, including statement of

positionality/privilege and pronouns

Moderator introduces decolonising academia movement

9.20 - 9.50

Topic 1: Experiences with the decolonising academia movement
Topic 2: Meaning of decolonising academia
Topic 3: Existing power structures & partnerships

9.50 - 10.00

Questions from the audience

10.00 - 10.15

Break

10.15 - 10.45

Topic 4: Decolonising knowledge production
Topic 5: Decolonising in practice

10.45 - 10.55

Questions from the audience

10.55 - 11.00

End: thank you to panel and audience