ADI Conference 2013

The Asian Dynamics Initiative (ADI) organized the international conference 'Growth: Critical Perspectives from Asia' at the University of Copenhagen on 13-14 June 2013.
The conference took place over two days and featured distinguished keynote speakers as well as panels examining the notion of growth from an Asian perspective and from multi-disciplinary vantage points – cultural, economic and social.
'Growth: Critical Perspectives on Asia' was the fifth in a series of annual conferences initiated by ADI in 2008. ADI is a cross-faculty and interdisciplinary effort to meet the current challenges and demands for better knowledge of and deeper insights into Asian matters.
Follow the conference on twitter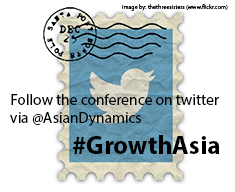 image: thethreesisters (www.flickr.com)
Organizing Committee
Ildiko Beller-Hann, Associate Professor, Dept. of Cross-Cultural and Regional Studies
Jakob Roland Munch, Professor, Dept. of Economics
Marie Roesgaard, Associate Professor, Dept. of Cross-Cultural and Regional Studies
Oscar Salemink, Professor, Dept. of Anthropology
Ayo Wahlberg, Postdoctoral Fellow, Dept. of Anthropology
Marie Yoshida, Asian Dynamics Initiative