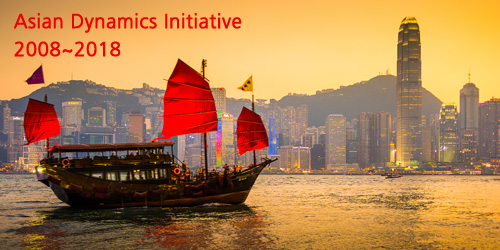 Image by newroadboy.co - Flickr
September 2018 marks the 10 year anniversary of the Asian Dynamics Initiative. To celebrate this a number of events will take place over the next couple of months.
---

Upcoming events include
IR workshop University of Copenhagen and Tokyo University
Peter Marcus Christensen
International workshop: Contested narratives in Islamic Central Asia
Ildiko Beller-Hann et al.

Debatarrangement: Har vi brug for flere babyer? (i Danmark, Kina, verdenen)
Ayo Wahlberg, Søren Ziebe m.fl.
South Asia Seminar on the recent elections in Pakistan
Ravinder Kaur, Amir Mateen
Book launch Greening China's Urban Governance - Tackling environmental and sustainability challenges
Jørgen Delman, Yuan Ren, Outi Luova, Mattias Burell, Oscar Almén (Eds.)
And there's more to come. This website will be updated along the way ...
Previous events
India Files: Four Futures - India-Denmark Relations in the 21st Century
The transoceanic and transcontinental encounters between India and Denmark have a long history, a relationship that is being consolidated in the early 21st century. What kind of engagements might be unfolding? And what is the potential that is still waiting to be untapped? This meeting sets focus on four futures in the intertwined arenas of commerce, culture, people and politics that lie ahead.
Read more

Global Citizenship Education Network
The first in a series of workshops with participants from Japan, China and Denmark.
Read more