Academic Profiles - Vera Skvirskaja
ADI - Academic Profiles series put spotlight on individual researchers working on Asia related issues in the social sciences and humanities, and promotes remarkable publications and innovative research projects.

Dr Vera Skvirskaja is associate professor at the Department of Cross-Cultural and Regional Studies, University of Copenhagen. As part of the ERC Advanced Grant funded large-scale comparative project "Trust, Global Traders, and Commodities in a Chinese International City", TRODITIES, Vera has been studying Russophone Slav traders and merchants from the Caucasus operating within the Yiwu market, China. For this 16th installment of our Academic Profile series we sat down with Vera for a talk on her recent research: On the paths that lead to and from Yiwu, on mistrustful diplomacies and trade formations.
Yiwu, a vibrant hub for the wholesale of Chinese small commodities, lies south of Shanghai in the Zheijiang province. Since the 1990s it has gradually emerged as an international focal point for trade, attracting traders from all over Eurasia and beyond. The city has evolved from a village to an international trade city, and now holds two markets: Futian Market and Huangyan Garment Market that together have over 75.000 shops. The Futian Market, which is the key site of Vera's research on Russaphone and Slav traders operating in Yiwu, is a market for the wholesale of small commodities.
The city and its markets are known by traders on a global scale and its development is encompassed in the "myth of Yiwu":
"Strategically," Vera explains, "Yiwu is not that well-placed: It has no ports, it is a so-called dry port, and it's not even close to other trading hubs or sites. However, the city was the site for experimentations on the local administrative level with removing constraints on trade in the market reform era. Local administration allowed and experimented with opening the city up for trade. This led to the emergence of small individual traders: Local Chinese residents and the urban and rural poor now had the opportunity to become involved in trade."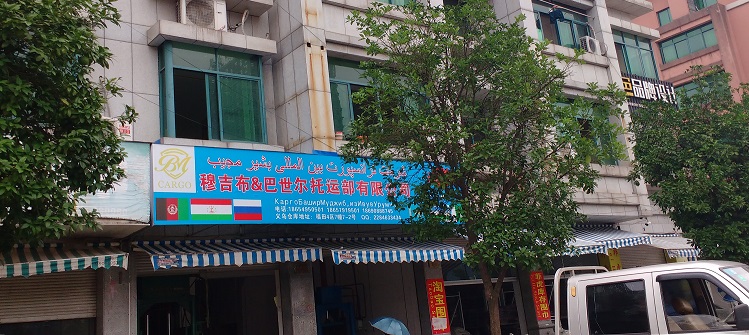 Company advertisment on store front in Yiwu with both Arabic, Chinese and Cyrillic writings. Image by Vera Skvirskaja.
Previously Vera has studied post-socialist economies, cultures of trade and adjustments to new market realities in the former Soviet space. Earning her PhD in social anthropology from the University of Cambridge, she has been involved in several projects focusing on trade routes, cosmopolitanism and co-existence. One of these was a project zoned in on Odessa, Ukraine, which has the biggest wholesale outdoor market in Eastern Europe, and after this project Vera turned her attention towards the routes from there to China:
"I was no longer interested in only doing the Odessa side of the story. There are various trading routes to China, to Yiwu, where flows of commodities and traders link, among others, Russian markets to the Yiwu markets. I was interested in looking at the Russaphone and Slav traders in the context of trade with China: What kind of new cultures of trade have been emerging along these routes? How do they build new commercial relationships, and what happens when the Russaphone Slav traders operate in a completely different context such as Yiwu? How do they navigate abroad when they don't speak any Chinese, and have to deal with a completely different social and cultural environment? How come some of them manage to make it big from scratch?"
"Sending Goods to Russia"
Being in Yiwu for her ethnographic fieldwork searching for answers to these questions, Vera experienced how the city has an immense social infrastructure connecting various newcomers - be they traders, middle-men, guides of the market and even anthropologists - to whom and what they are looking for.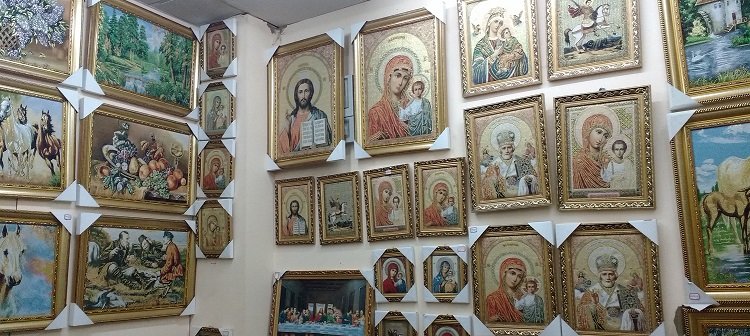 "When I came to Yiwu, everybody just saw me as one of those Russian traders. I also don't speak any Chinese, but I thought to myself: The Russaphone Slav traders are making it work for them somehow, so why should it be any different for me? And it turned out that it was not difficult: It was confusing at the very beginning, but also quite feasible."
The feasibility, Vera explains, is due to the several entry points into Yiwu's vast social infrastructure :
"Either the receptionist at the hotel you are staying at will connect you with someone who speaks your language. This person would bring you to the market place, or you could just roam the market on your own. Here you would find posters advertising  'Russian' goods' or cargo agencies 'sending goods to Russia'. There's also this 'Russian Island' that I have written about with different 'ethnic/national' restaurants representing republics of the former Sovjet Union. You would go to these restaurants and then there would be someone there who spoke Russian, and you could start a conversation and take it from there. Some Chinese agencies hire interpreters, maybe a Chinese student or Russian or Uzbek migrant, and they would send them to the market place: 'Go and look for clients'. They would hear you speak in Russian, or see that you look 'Slavic', approach you and offer you their services. And that's how you get integrated or brought in. They look for you, and you look for them, and eventually you find each other."
Mistrustful diplomatic relations
Venturing to the Yiwu market can be quite expensive for small individual traders: The cost of travel, accommodations and an interpreter builds up in expences. The whole exercise of traveling thousands of miles to trade in a place with people with whom you do not share a common language and culture of trade, also raises issues of trust: According to Vera, the Russian traders she studied did not "trust the Chinese, and the Chinese particularly didn't trust the Russians." But how, then, did traders manage to continue trading? Surely, there must be some kind of trust involved in the transactions?
"In my experience, and other scholars working in China have noticed a similar trend, trust was not, actually not at all, a big thing. It was more this kind of diplomacy: 'We have to pretend that we are okay with each other… We will play as if we trust each other. And I have all these different means of compensating for my monetary losses in case you cheat me.' What would distinguish a good trader from a less good trader would be their ability to navigate and take risks in this very distrustful environment, without letting emotions, often linked not only to business but also to traders' political sentiments, out. Like one of my informants in Georgia said: "It's very important for us to keep politics and business separate. We don't mix those two."
These insights, among other things, have led the participants of TRODITIES to formulate the notion of trade formations:
"We don't see these trades as simply creating trade networks. We are thinking about them in terms of trade formations, as they involve all sorts of relations, including those that are not part of trade networks in any direct way. And in these trade formations the issue of mistrust is undermined by informal diplomatic relations based on expectations of mutual benefits. And that is what trade in Yiwu more than often delivers. "
ADI thanks Vera Skvirskaja for her time.
Marie Leine, May 2019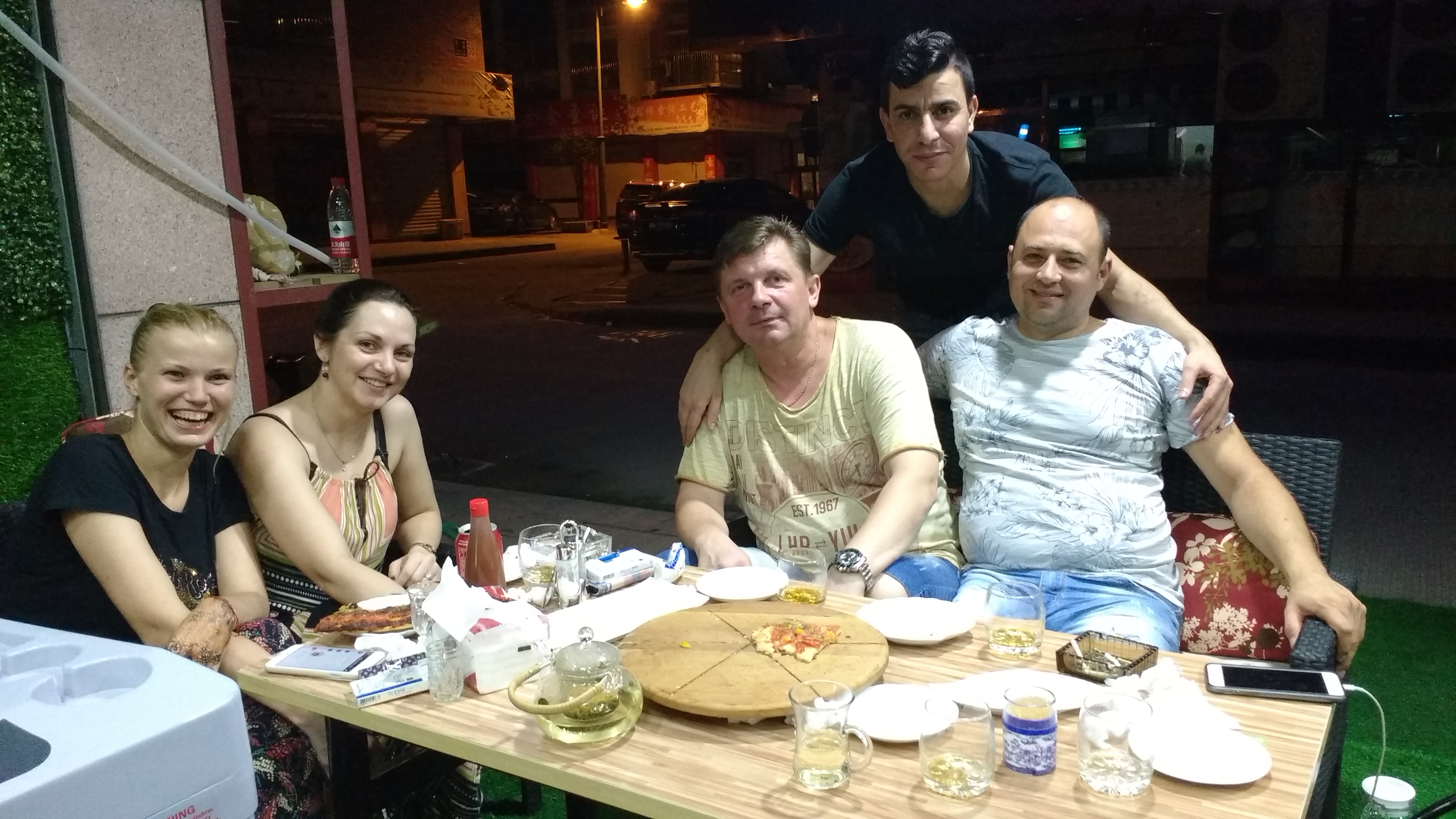 Previous Presentations
Jakob Roland Munch
Professor, Dept. of Economics
Ayo Wahlberg
Associate Professor, Dept. of Anthropology
Kai He
Associate Professor, Dept. of Political Science
Lars Højer and Stine Simonsen Puri
Associate Professor and Postdoctoral Fellow, Dept. of Cross-Cultural and Regional Studies
Ravinder Kaur
Associate Professor, Dept. of Cross-Cultural and Regional Studies
Oscar Salemink
Professor, Dept. of Anthropology
Chunrong Liu
Executive Vice Director of Fudan-European Centre for China Studies, UCPH
Atreyee Sen
Associate Professor, Dept. of Anthropology

Trine Brox and Elizabeth Lane Williams Ørberg
Associate Professor and Postdoctoral Fellow, Dept. of Cross-Cultural and Regional Studies

Maansi Parpiani
PhD Fellow, Dept. of Cross-Cultural and Regional Studies
Ildikó Bellér-Hann
Associate Professor, Dept. of Cross-Cultural and Regional Studies
Peter Marcus Kristensen
Associate Professor, Dept. of Political Science
Sarah Christine Swider
Associate Professor, Dept. of Sociology
Mikkel Bunkenborg
Associate Professor, Dept. of Cross-Cultural and Regional Studies
Dan Hirslund
Associate Professor, Dept. of Cross-Cultural and Regional Studies
Vera Skvirskaja
Associate Professor, Dept. of Cross-Cultural and Regional Studies
Marie H. Roesgaard
Associate Professor, Dept. of Cross-Cultural and Regional Studies
Jørgen Delman
Professor, Dept. of Cross-Cultural and Regional Studies
Jun Liu
Associate Professor, Dept. of Communication
Barbara Wall
Assistant Professor, Dept. of Cross-Cultural and Regional Studies
Jens Sejrup
Assistant Professor, Dept. of Cross-Cultural and Regional Studies